Go for 2&5 - Primary School Programs
Perth Glory's Community Team are committed to engaging with participants of all ages and abilities while assisting in the progression of Football in Australia.  Our staff run many quality programs throughout the School term for children at metropolitan and regional Primary Schools including Sporting Schools and Let's Play Primary School clinics.

Go for 2&5 - Sporting Schools
The Sporting Schools program is a free government funded initiative that is designed to help Primary Schools increase children's participation in sport, and to connect children with the best coaching experience available in Western Australia. All primary schools throughout Australia can apply for this funding and approved schools will receive upwards of $1,300 to be used for the delivery of their chosen sport before, during or after school hours.
In order to register please visit www.sportingschools.gov.au 
Want more information email Community@perthglory.com.au 
Once your funding is approved, we are happy to co-ordinate the program that is the best fit for your Primary School's schedule and your Primary School's students.
Perth Glory Football Club work extensively with Football Federation Australia, Football West, Australian Sports Commission and SEDA promoting school sport to West Australian students. We believe in young people being active, making healthy choices and this is a great opportunity for primary aged students to benefit from Perth Glory Community Coaches.
Our Community Department has an ambition to continually inspire and improve Grass Roots football all the way to professional levels, whilst providing a dynamic and challenging learning experience for all our participants.
Schools Glory have visited recently include; Landsdale Christian School, Australian Islamic College, Majella Catholic Ashdale Primary, Burrendah Primary, Piara Waters Primary, Fountain College, John Septimus Roe, St Munchins Primary, Francis Jordan Catholic .    
Want more informatio            
---
Deanmore Primary School is a participant in the Sporting School program and has engaged Perth Glory to help its students learn the benefits of keeping active, living healthy and teamwork.
Recently the Caltex Socceroos, Apostolos Giannou and Milos Degenek did a Q&A at the Deanmore Primary School Assembly to over 500 kids with George the Glory Gorilla and Maloo the kangaroo also in attendance.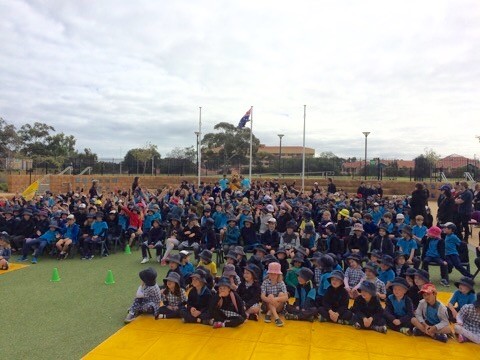 'Sporting Schools Sessions with the PG coaches were sensational. Kids were engaged and challenged throughout all sessions. Players of all abilities were equally encouraged to improve in a skilled based fun and active environment. I wouldn't hesitate in recommending them to others and look forward to using them in the future."
Dan Rodgers
Deanmore PS 

Go for 2&5 - Let's Play Primary Schools
Let's Play is Perth Glory's physical, social and educational community program for K - 7.
We are currently taking bookings for term 1 to term 4 2016.
Our training exercises are all football focused and conducted within an individual and team based learning environment that encourages students to enjoy and develop their football skills while learning about the game and its various disciplines.
Our coaches have either played or coached at professional football clubs as well as having a dedication to youth development that is ideal for social, recreational or elite footballers.

Staff
Community and Development Manager Callum Salmon
Senior Community and Development Officer and Program Manager for Primary Schools Michael Garcia
Community and Development Officer Stephen Purton
Community and Development Coach Jack Iredale
Community Coach Scott Robinson

Testimonials
"With ordinary soccer challenges the same talented children always get the ball and the more unskilled/shy ones don't normally get a look in, but with Perth Glory all the children get to have a go at tackling the ball and scoring goals as there only 4 in play at one time.
The coaches are enthusiastic and encouraging and seem to enjoy the game as much as the kids. So glad they will be coming back next term, this is a great community service. Thanks."
Nikki Bowyer
P&C Association
Beaconsfield School

"The after school soccer allows children of all abilities to be introduced to the world of football. The sessions are always fun, enjoyable and allow for all of the children to participate. The environment is friendly, interactive and engaging for the students."
Nancy Lowry
Coogee Primary School
"I would just like to say thank you very much to all involved at Perth Glory Community for coaching our son Levi Christie. He absolutely loved Perth Glory Soccer School Program With Michael Garcia  (North Program). He met so many new friends and coaches and loved playing his football/Soccer.
You and your team truly are fantastic at what you all do with the boys, such a positive experience and we as parents can't thank you and your team of coaches enough..."
Jaimie Lee Christie
For further information email community@perthglory.com.au or call the office on 9492 6000